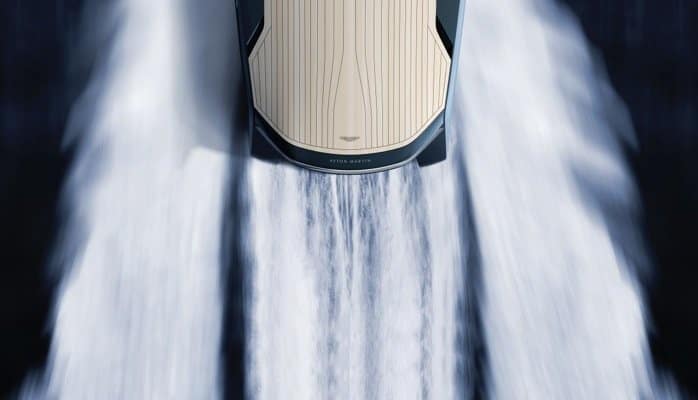 How do you make the geeky discussions surrounding the Internet of Things more interesting? One way I can recommend is to take a look at one of the classiest applications of the connected world of devices – and you'll find it within the design DNA of the soon-to-be-launched Aston Martin Powerboat…
Yes, you read that right: Aston Martin + Powerboat.
The Aston Martin "AM37" (the number denotes 37 foot of high performance twin engined wow factor, on steroids) enters a fierce luxury marine manufacturing sector, going into battle with the established likes of Riva of Italy and Pascoe International of England (founded by Mark Pascoe – a brilliant Powerboat designer and world champion racer with balls of steel who is undoubtedly one of the most alive and kicking men to ever ride the ocean waves).
What may help to instantly set the AM37 apart is its designed-in connectivity, a micro version of what is about to explode into your home, your car, your smartphone and your life. Early indicators from Quintessence Yachts (the Aston Martin AM37 builders) are that you will be able to control, remotely from your smartphone, your boat's crucial comforts such as the AM37's air conditioning system and even, wait for it, its Nespresso coffee machine, so you will be ultra cool immediately you step aboard in your white linen suit or dress, and be George Clooney super sharp of mind when you gently caress the gorgeous leather helm and cast off. How wonderful. Monaco, here come the über cool AM37 next generation.
If you think this trending technology doesn't affect you, or your business, then think again.
Gartner research director Peter Middleton speaks in Retail Customer Experience of a stunning impact to our lives and businesses because hardware as we know it is about to be overtaken in a very big – $1.9 trillion (he estimates) – way:
"The growth in IoT will far exceed that of other connected devices. By 2020, the number of smartphones tablets and PCs in use will reach about 7.3 billion units. In contrast, the IoT will have expanded at a much faster rate, resulting in a (connected device) population of about 26 billion units at that time."
Google didn't buy Nest because they like birds; neither did Samsung pay $200million in 2014 for the startup SmartThings because they were in need of extra intelligence. No, it's because Things are about to become aware of each other to a whole new level. At a personal parallel it means all your Gizmos (appliances, electronics, energy, security, wearables and anything with even the cheapest of micro-chips in it) will begin to 'understand' your needs, doing things for you automatically and 'intelligently' – that is of course, once you have set them up (phew, we humans will still be needed in this brave new world – someone needs to operate the smartphone!). That said, once you have set up your own personal or business IoT it should be so seamless that you won't even think about the stuff happening all around you. Finally, tech has arrived that really does give you more time to create value in the world elsewhere.
Going beyond the basics of phase 1 simple connectivity, as Open Source platforms like SmartThings enable unlimited devices and services to join together, let your mind feast on the prospect of joining up the latent computing power of all 26billion devices of the IoT… it will become a new generation of 'Übercomputer'. It is a mind-melting exercise to try to imagine the scale of human and eco questions that kind of power could go on to solve … in the right hands.
These groundbreaking developments are being made possible by a unique alignment of brilliant people, new software, (with the most innovative ideas and IP coming from Indie Tech Startups), open source platforms and of course game-changing physical hardware technology from established and new OEM players. From optimising the once humble battery for longer and more efficient life, to ever increasing processor speed like the NVIDIA Tegra X1 Super Chip and the ARM Cortex-A72 processor (don't you just have to love that name – it's straight out of Terminator), to literally creating new world environments on the front of your eyeballs in Virtual Reality (VR) headsets.
Speaking of VR if you haven't experienced being transported (where have you been friend?!) do get a Samsung Gear VR wrapped around your face ASAP and check out stuff like the world's first real time cooking simulator, CyberCook® – I defy you not to be instantly transported from where you're sitting into your very own virtual kitchen to enjoy cooking as real food, or to wherever the developer (or brand paying for your virtual reality experience) wants you to be enjoying new retail experientialism, personal immersive entertainment and next gen communications.
Aston Martin cars have appeared in many computer generated environments including the James Bond 007 console game series from EA, but like Audi and BMW cars already, Aston Martin's new high-speed mini-yacht will become part of global computing itself, the Internet of Boats will be part of the Internet of Things. Having a deep commercial and personal experience in high performance boats I will watch with great interest the launch in September 2015 and anticipate that the Quintessence Yachts team led by Mariella Mengozzi and Ben Collett are in for a thrilling startup ride. When you think about it, setting aside the small matter of finding the spare change to buy the boat, what's not to love? Mengozzi and Collett have the Über-cool Aston Martin brand heritage to float upon, leading Dutch naval architects Mulder Design bringing the boat from digital drawing board to sea trials and handover, the experienced nautical hand of Feadship luxury yachtmaker Henk de Vries supporting them at the board helm – and a stunningly beautiful boat with which to begin a new maritime era for one of the world's most iconic brands.
High performance, speed and beauty have always seduced and thrilled the hearts of men and women around the world. The technology powering the Internet of Boats (and Things) will leave us all with more time to relish the prospect of that kind of seduction with the AM37, even if only from the shoreline.
"Nespresso anyone? Hand me my S6 would you…"
"Yes, Mr. Bond."